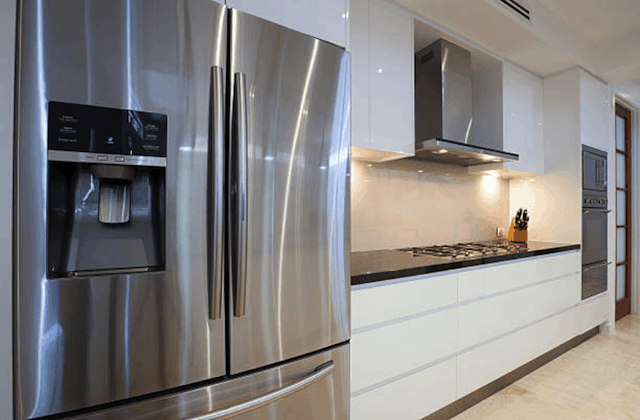 WE CAN HELP! CALL NOW:
(281) 729-4646
A refrigerator breaks down could mean that the entire amount of food stored in it could go bad if not repaired in a short while. For this reason, it is important that refrigerator issues be handled in a prompt fashion. Also, you will need an appliance repair company in Pearland that will repair your refrigerator the same day that you seek the service.
Gold Appliance Repair is the provider to rely upon. Appliance professionals fix refrigerators the same day you inform us about the breakdown.
REFRIGERATOR ISSUES
LOUD/CONSTANT NOISES
Appliance professionals will correct loud noise problems related to refrigerators frequently compared to other issues related to fridges or freezers. In most cases, these noises come from either the evaporator fan motor or the condenser fan motor found inside the freezer. You can inspect your refrigerator and try to identify where the noise is coming from before calling us. This will allow them to carry all the necessities for repair.
WATER LEAKS
The main reason why your refrigerator is leaking is that its water inlet valve or the door latch or closure has an issue. This is a problem that can be fixed within no time by the skilled technicians during the first visit.
WON'T START
If you have confirmed that the circuit breakers are on and that your refrigerator has been plugged in correctly, you need to be worried of a breakdown. However, there are two main reasons why your refrigerator won't turn on. Either the compressor overload relay is broken or the temperature control has malfunctioned.
ICE MAKER WON'T MAKE ICE
An ice maker becomes useless if it fails to make ice. The most common cause for an ice maker failing to make ice is temperature control in the freezer, broken water inlet valve or water fill tubes that is broken. At times, the ice makers work slowly or produce ice cubes that are smelly.
FRIDGE TOO COLD/TOO WARM
Normally, a broken refrigerator is bound to have temperature issues. When the air inlet damper breaks down, it makes the fridge become too warm. On the other hand, when the refrigerator becomes too cold, it insinuates that the thermostat or temperature control is having an issue. Appliance professionals fix this problem for all brands and models.
BROKEN WATER DISPENSER
The company rarely repairs water dispensers since there are calls that don't receive often. However, this does not mean that the dishwasher is not bound to break down. It may break down if the water inlet valve or the dispenser actuators have broken down. Appliance professionals will do take care of these issues too. They take care of brands such as Sears, GE, Kenmore, Whirlpool and Sub-zero among other brands.
DOOR LATCH/BULB PROBLEMS
Leakage and condensation problems come about when the door latch or closure is broken. Appliance professionals fix seals, hinges and gaskets to allow the refrigerator door to open and close properly. A refrigerator can lose its temperature if the broken door is not corrected. In addition, they replace and fix broken bulbs in the freezer or refrigerator. All these are problems that expert technicians can take care of.
Gold Pearland Appliance Repair is a service that helps homeowners connect with local service contractors. All contractors are independent and Gold Pearland Appliance Repair does not warrant or guarantee any work performed. It is the responsibility of the homeowner to verify that the contractor they hire has the necessary license and insurance required for the work being performed. Local repairs performed by Mr. Appliance Katy.